Partner
Qlik license distribution
From 2012, BPX as an authorized partner of Qlik (the highest status of partnership – Elite) is allowed to resale Qlik licenses. By supporting our clients, we provide the first line of support and we participate in communication with Qlik on behalf of the client.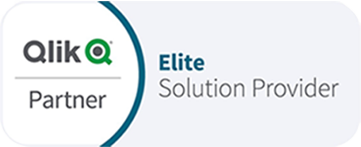 Elite Solution Provider
The highest Elite Solution Provider status possible for a Qlik Partner
Qlik licenses are sold in a subscription model.
Qlik Sense SaaS
Qlik Sense is available in SaaS model in two versions:
Qlik Sense Business
Qlik Sense Enterprise SaaS
Both versions are available in 30-day trial period – client can start Qlik Sense Business trial on his own, Qlik Sense Enterprise SaaS trial can be started if you contact our sales representative.
Qlik Sense Enterprise SaaS – Editions
Qlik Sense SaaS editions differ in terms of maximum available parameters.
Those differences are highlighted in the table.
Qlik Sense Enterprise SaaS – license model
Qlik Sense Business license model is a single flat rate of 30 USD/user/month billed annualy
Qlik Sense Enteprise SaaS license model is the same as for Qlik Sense Client Managed on premises with Professional, Analyzer and Analyzer Capacity licenses.
Billing and pricing is negotiated based on number of users.
Qlik Sense Enterprise (QSE)
The highest Elite Solution Provider status possible for a Qlik Partner:
Qlik Sense Professional
The user has access to the editing of streams and applications in Qlik Sense. It is intended for users, who need an access to all the functions and users, who will create, edit and publish sheets and applications and (fully) benefit from the available functions. Within the framework of the Qlik Sense Professional license, client receives an access to additional Qlik's tools:
Qlik GeoAnalytics Base – it provides a geographical analysis with the use of Qlik Sense
Qlik Web Connectors – access to the completed connectors designed for a specific application, easy access to services such as Facebook, Google Analytics
DEV and TEST environments – clients that have active subscription for a local server are entitled to 2 additional keys for development and testing purposes
In addition, as long as the subscription for the Professional User is active – each user has an access to Qlik Continuous Classroom – Qlik's e-learning platform.
Analyzer User
The user with an access to the Analyzer cannot create, edit or publish sheets and applications (in contrast to Professional User). This type of user can:
examine applications,
create bookmarks and history,
print objects and history,
export data from the object to Excel or PDF,
use the Qlik Sense on mobile devices.
This type of license is used by all users of applications that have been created by users of the Professional.
Analyzer Capacity
In addition to the above-mentioned users, the access based on minutes package is also possible.
Analyzer Capacity – it offers an access to the Qlik Sense application based on consumption settled in minutes. The purchase is realized in packages (1000 minutes). Minutes are allocated and reset every month. Unused minutes expire. Consumption takes place in blocks (6 minutes per block).
We can assign an unlimited number of named users to the group of Analyzer Capacity's users. Permissions are the same as in the case of Analyzer User (conducting analyzes without the possibility of editing and creating applications and sheets) This type of settlement is optimum when you want to give an access to Qlik Sense for a large number of users, who will benefit from the prepared applications (occasionally). Access at the Analyzer level can also be provided for users, who are outside of our company (business partners, customers, etc.)
The purchase of one Qlik Sense Professional user entitles us to take advantage of all the opportunities offered by the tool. In contrast to similar solutions on the market, in Qlik – there is no need to purchase next types of users and access levels in order to benefit from the next functions.
If you already have Qlik Sense or QlikView check these modules for additional enhancements:
static report creation and distribution in doc, xlsx, html, pdf (Qlik NPrinting)
geospatial Analytics (Qlik GeoAnalytics)
input capabilities with planning & budgeting (K4 Analytics)
embedded Analytics on WWW sites (Qlik Analytics Platform)
data changes and custom alerts (Qlik Alerting)
By selecting BPX as a partner, you can be certain that the type and number of licenses will be calculated in an optimal way (in terms of costs and quantity).
Contact

us!

Let's talk! Are you interested in our solutions? Our experts are happy to answer all of your questions.