Migrate QlikView to Qlik Sense
Migrate QlikView to Qlik Sense
If there is the QlikView platform in your organization and you are wondering whether and how to implement Qlik Sense to your organization, we have some implementation possibilities. Each option of migration contains a number of possible scenarios that depend on the extent to which you want to transfer your reporting on a new platform. BPX consultants will help you to estimate labor consumption and all risks associated with migration.
Why is it important to migrate QlikView to Qlik Sense?
Are you looking for expanded possibilities (Self Service), where users can create their own reports with the use of simple drag & drop operations
You need a platform that provides an access from mobile devices and scales (fully) on any display resolutions
You want to use advanced statistical packages (R or Python)
Are you looking for a solution that is easy to integrate with websites or other tools in HTML or JavaScript (technology)
You want to benefit from possibilities of Augmented Intelligence technologies that ensure the support for the analyst when discovering new patterns in the collected data
You want to benefit from the possibility of extending the platform with modules in the JavaScript language and open API
You want to make use of the possibility of scaling for solutions with the use of the Multi-cloud technology
Possible scenarios for using QlikView and Qlik Sense: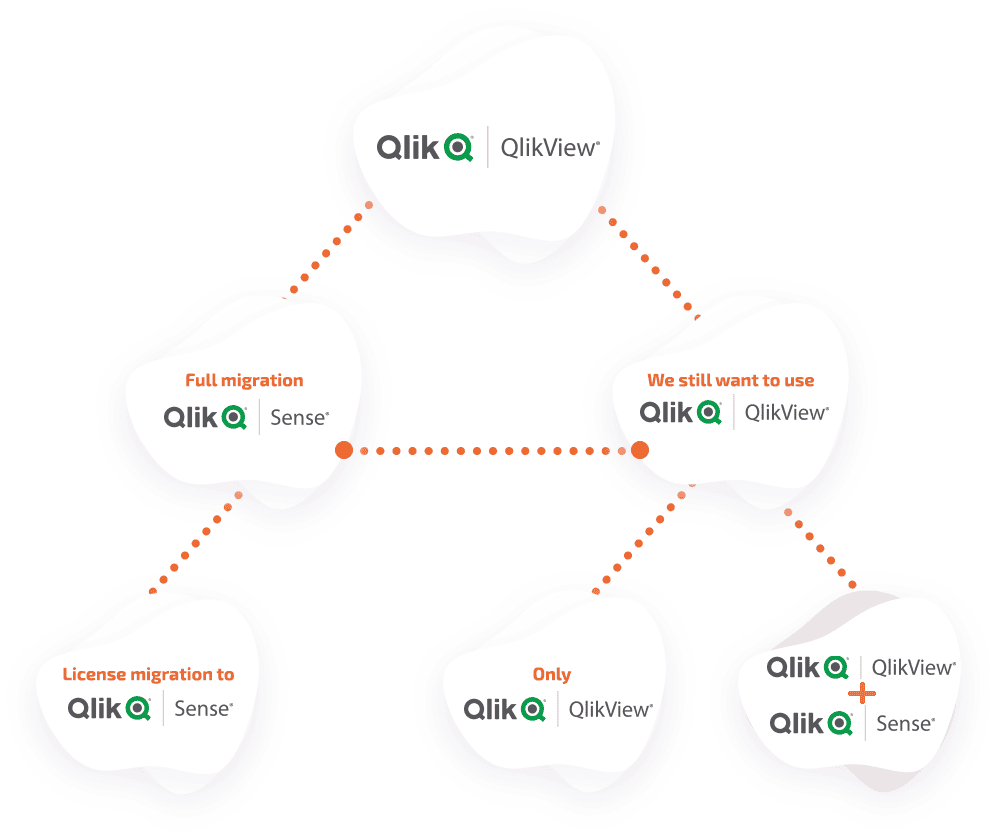 Migration project
BPX offers customers the full support in the migration process. Depending on preferences, the client can order various services related to the migration: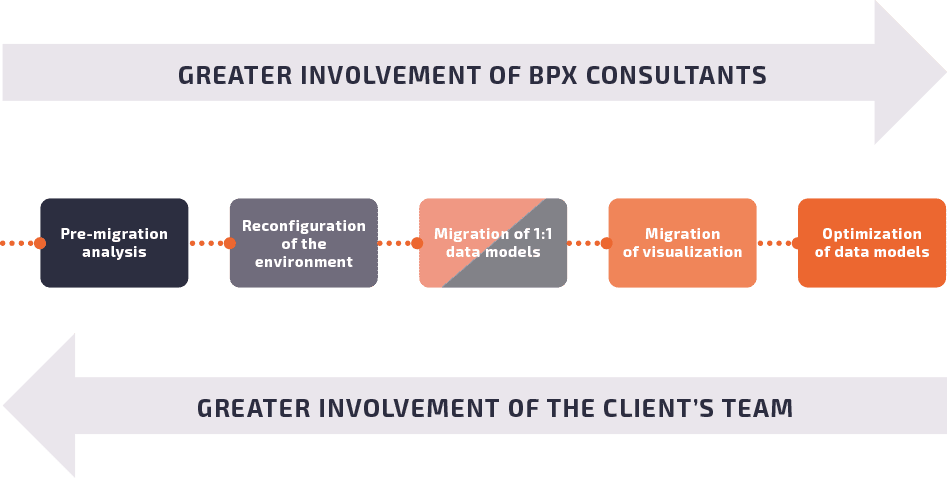 Pre-migration analysis:
Analysis of the current QlikView installation
The analysis of the complexity of the application's migration. It includes a description of all the functionalities that will have to be changed after switching to Qlik Sense (for example, objects that do not exist in the Qlik Sense or vary to a significant manner)
Analysis of additional extensions and their compatibility with the Qlik Sense
Analysis of additional tools (Nprinting, Geoanalytics)
The product of the analysis is a report covering the full range of changes proposed for migration schedule and expected cost
Reconfiguration of the QlikView and Qlik Sense environment:
Installation and configuration of the Qlik Sense environment
Integration of QlikView and Qlik Sense environments at the level of data (QVD files)
Update of all installation components (QlikView Server, Connectors, additional tools)
Documentation concerning the management of the new environment
Migration of QlikView data models to Qlik Sense 1:1
Migration of data models from QlikView to Qlik Sense
Testing the compatibility of Qlik Sense models with Qlik Sense
The client independently creates new visualizations on the basis of the models in the Qlik Sense
Migration of visualizations from QlikView to Qlik Sense
Project and realization of the migration for selected or all reports to Qlik Sense
In the course of the project, projects of visualization (for the acceptance of the client) are created
Transfer of models is also required
Optimization of data models
In the course of migration, scripts are analyzed in terms of optimization
Optimization assumes both optimization of QlikView application and the optimization of Qlik Sense
Models are verified in terms of data compliance – before and after optimization
The aim of the optimization is to accelerate the operation of reports, reduce demand for resources and eliminate potential sources of errors
Data models are listed in structures with the use of original framework from BPX
Full documentation of changes and a new structure shall be transferred
The environment is analyzed in terms of performance by automatic stress tests. The results before and after changes are presented to the client in documentation
Contact

us!

Let's talk! Are you interested in our solutions? Our experts are happy to answer all of your questions.