News
BPX Vice CEO, Anna Saczuk, was awarded in the 'Strong Women in IT – Global Edition' 2023 report!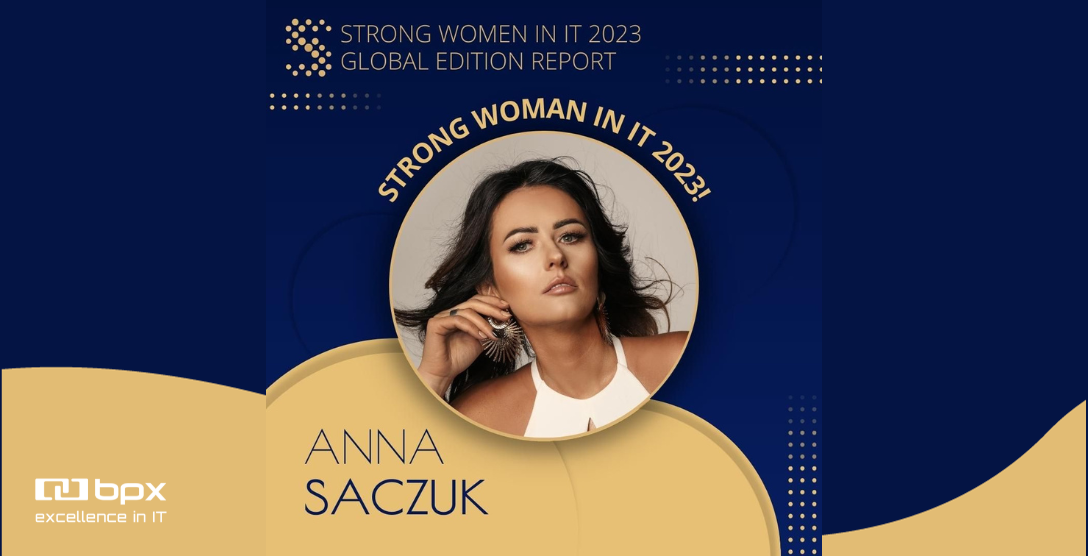 Date:

29 September 2023
We're proud to announce that our Vice CEO, Anna Saczuk, was recognized in this year's prestigious 'Strong Women in IT – Global Edition' report. That third ranking edition focuses on highlighting the role of leader women in a dynamic new technologies environment.
The list included 251 inspiring successful women from all over the world, who hold C-level positions in IT companies.  
The report consists of over 300 pages, and it introduces statistics based on leaders' answers, experts' commentary, and sections dedicated to all winners – there you find responses to 4 chosen questions. 
This year's survey focused on a few key areas, such as the role of women as leaders professionally and personally, work-life integration, challenges faced by women as leaders in the current market situation, the phenomenon of "technology overload", and main trends in the IT industry. 
What was the most challenging professional situation you had to solve after taking a managerial position?   
The most challenging situation I had to handle was finding the right balance and slowing down a bit after becoming a mother. 
 Anna Saczuk, Vice CEO w BPX S.A. 
The questionnaire was composed of 56 questions, with a predominance of open questions. As a result, the collected answers were more detailed and made it possible to draw interesting conclusions.
You can download the report here: https://strongwomeninit.com/en/   
See the latest
updates
We invite you to follow the latest news from the world of BPX. Stay up-to-date with innovations in business management and the latest industry trends.
Contact

us!

Let's talk! Are you interested in our solutions? Our experts are happy to answer all of your questions.