Blog
A New Era in HR Analytics – Unlocking the Potential of Business Intelligence
Dominik Machalica

Reading time: 8 min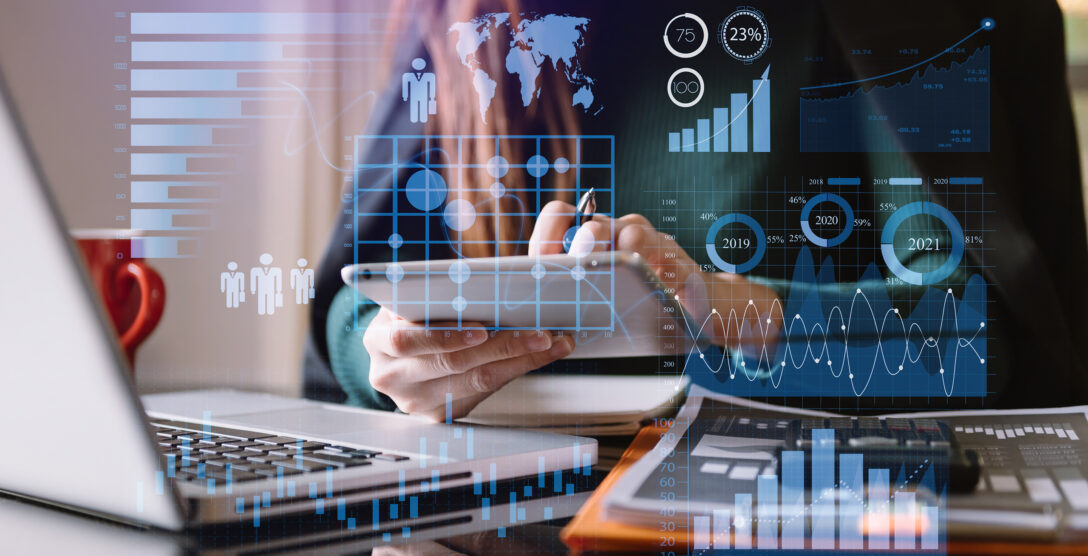 Date:

22 June 2023
In today's rapidly evolving HR landscape, the industry faces significant challenges affecting businesses worldwide. Global issues, such as inflation, supply chain disruptions, fluctuating currency exchange rates, and talent shortages, further complicate matters. Additionally, the constant concern of a potential recession drives cost reduction initiatives. However, this represents just one aspect of the situation.
This article will provide insights into:
The benefits of incorporating Business Intelligence (BI) systems within HR departments.
Real-world examples showcasing the utilization of BI solutions within the HR industry.
Practical steps to initiate the adoption of data analytics tools.
Benefits of Utilizing a Business Intelligence (BI) System in the HR Department
The HR industry is tasked with not only managing employee morale, organizing training programs, and ensuring their psychological well-being but also maintaining a balanced budget. So, how can all these challenges be reconciled?
The answer lies in Business Intelligence (BI) – an advanced system that addresses the HR industry's problems. With BI, one can look at data in an entirely new way, gain insights into key metrics, create forecasts, and make informed decisions. It is a tool that enables process optimization, increased operational efficiency, and effective personnel management.
Time for a revolution in the HR industry. Take your management to the next level, harness the power of Business Intelligence, and reap the benefits of precise data analysis.
A Business Intelligence (BI) system is the key that unlocks the doors to a better future for the HR department. It enables making smart, informed decisions that contribute to increased efficiency and time and cost savings. Here's why you should embrace this powerful technology:
Better business decisions: With a BI system, the HR department can access accurate and up-to-date data, aiding in making informed decisions. No longer do you have to rely on intuition or guesswork – you have a tool based on facts and analysis at your disposal. This means you can make more thoughtful decisions that benefit both employees and the organization as a whole.
Improved employee management: A BI system allows for monitoring employee performance and identifying those who need additional support. You can effectively manage work time, provide relevant support and training to enhance the team's skills. As a result, employees will be more engaged and productive, translating into better business outcomes.
Analysis of HR effectiveness: A BI system enables the collection and analysis of data on employment, absences, compensation, training, and many other HR indicators. This allows you to assess the effectiveness of your actions and make optimizations. You can learn which recruitment sources yield the best results, how to retain valuable employees, and the benefits of investing in team development.
Optimization of compensation systems: A BI system provides tools for analyzing the company's compensation system. You can easily identify the most cost-effective positions and ensure that employee salaries align with market standards. This enables making appropriate adjustments to retain top performers and attract talented candidates.
Individual training and development: Through data analysis, a BI system assists in identifying training and development needs for employees. You can learn which training programs are most effective and yield the greatest benefits.
Examples of using a BI system in the HR department:
The application of Business Intelligence (BI) system in the HR department opens up limitless possibilities for businesses, bringing a range of business benefits. Here are several key examples that highlight the value of BI system in human resources management:
Data-driven strategic decisions: The HR department can leverage a BI system to conduct in-depth analysis of data related to employment, compensation, absences, recruitment, and other HR aspects. Based on reliable data and precise forecasts, informed and thoughtful business decisions can be made. The BI system allows monitoring key indicators, identifying trends, and detecting hidden patterns, enabling effective human resources management.
Performance and productivity optimization: With a BI system, the HR department can meticulously monitor employee performance and identify areas where corrective actions or optimizations are needed. Data analysis allows for precise time management, recognizing training needs, identifying key performance drivers, and effectively tracking progress and results.
Cost optimization: By employing a BI system in the HR department, efficient human resources management can significantly reduce costs associated with recruitment processes, training, and employee retention. Through in-depth data analysis, areas where savings can be achieved, such as minimizing employee turnover and optimizing resource utilization, can be identified. By optimizing HR costs, the company can focus its resources on strategic initiatives, thereby achieving greater operational efficiency.
Personalized solutions for employees: A BI system enables the HR department to create personalized development programs and benefits for employees. Data analysis allows for a better understanding of employees' needs and preferences, facilitating the delivery of dedicated solutions that contribute to their engagement, motivation, and development. The HR department can also monitor the effectiveness of these solutions and adjust them based on analysis results.
Effective talent management: A BI system supports the HR department in identifying and managing talent within the organization. By analyzing data related to recruitment, training, promotions, and employee turnover, key employees, potential competency gaps, and personalized development and retention plans can be developed. This allows for building a strong and sustainable team that contributes to the organization's success.
Gaining a competitive advantage: The utilization of a BI system in HR departments enables companies to stay ahead of the competition through effective human resources management and strategic business decision-making. Access to up-to-date and comprehensive employee data allows for better planning, responsiveness to market changes, and the creation of personalized development programs. Effectively managed human resources are a key success factor in a dynamic business environment.
Steps ahead of everyone: Having the most recent salary data from industry reports, HR employees can compare their salaries with the market average, outperforming the competition in terms of timeliness and salary levels.
Strengthening organizational culture: Employing a BI system for HR facilitates the precise identification of areas that can impact employees' motivation and engagement. Analyzing data related to compensation, benefit packages, training, and employee development allows for determining key motivational factors and offering relevant benefits that contribute to employee retention. This enables the creation of a favorable organizational culture that fosters talent development and achievement of strategic business goals.
Success in today's dynamic business reality requires fast access to key data and the ability for real-time analysis. That's why Business Intelligence (BI) systems have become essential tools for HR departments and other departments within companies.
The application of BI system in the HR department not only provides access to invaluable information but also enables its utilization in real-time. No longer do employees have to wait for a specially prepared report from someone else—now, each employee can independently generate reports, analyze data, and create clear dashboards and charts. These user-friendly and intuitive tools allow for monitoring any changes almost instantaneously.
The HR department can leverage these conveniences to make better business decisions, optimize recruitment, training, and employment processes, and strengthen the organizational culture. As a result, employees will be more motivated, engaged, and focused on achieving the company's strategic goals.
Case Study: Optimizing Unused Leave Reserves in the HR Department through Qlik Data Analysis
At the end of the year, our client conducted an analysis regarding a high leave reserve. By utilizing the Qlik tool, it was possible to thoroughly examine the situation and identify the main causes of this issue. During the analysis, the client discovered an interesting feature that our team developed as part of the implementation. They focused on analyzing data related to the value of the leave reserve and noticed that unused leaves by senior management had a significant impact overall. It turned out that the equivalent of a two-week leave for one senior management member was comparable to the total leave of five other employees. This quickly led them to realize that the problem lay in the underutilization of leaves by the management team.
Thanks to the analysis conducted, the client took immediate action, and within just one week, all members of the senior management had their leaves planned. This efficient solution successfully achieved the goal of reducing the leave reserve. It serves as an excellent example of applying analytical tools in practice, helping the client optimize human resource management and achieve efficiency in leave utilization.
How to Get Started with BI in the HR Department?
Embarking on a BI journey for the HR department is easier than it seems. Simply reach out to our team, present your needs and goals, and our experts will assist you in selecting the appropriate solution and implementing it in your company.
Our intuitive user interface and user-friendly environment make using BI systems easy and enjoyable. Without the need for coding knowledge or advanced technology, you will be able to generate your own reports, analyze data, and track key performance indicators for your team.
With our BI system, you have full control over data and its presentation. You can create personalized dashboards, charts, and reports to tailor the analysis to your specific requirements. Starting the BI journey for HR is a straightforward path to better business decisions and effective human resource management.
If you want to fully leverage the potential of Business Intelligence systems in your organization, contact us today! Our experts will help you smoothly begin using these tools and customize them to your company's unique needs. Don't waste time and join the ranks of businesses gaining a competitive advantage through efficient data utilization. It's time to embrace this transformative technology and unlock the potential of data analysis in your HR practices. Get in touch with us and discover the potential that lies within your company!
See recent
writings
You drive us to strive for excellence in delivered projects and common challenges. Feel invited to read out blog that provides more in-depth knowledge on our implementations and experience. Read articles about digital business transformation, ERP and Business Intelligence systems. Discover interesting practical applications for future technologies.
Contact

us!

Let's talk! Are you interested in our solutions? Our experts are happy to answer all of your questions.