Qlik license distribution
From 2012, BPX as an authorized partner of Qlik (the highest status of partnership – Elite) mediates in the sales of licenses. By supporting our clients, we provide the first line of support and we mediate in the communication with Qlik. Currently, Qlik does not have its delegation in Poland, and all actions are carried out by its partner – BPX.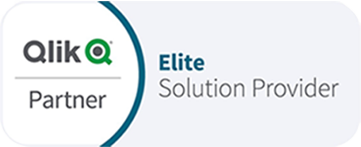 Elite Solution Provider
The highest Elite Solution Provider status possible for a Qlik Partner
Since 2019, Qlik changed the model of licensing for its products. Current clients may purchase licenses in a model of perpetual licenses with an annual fee (maintenance). All new clients of Qlik may purchase licenses in a model of annual subscription. This change has also introduced new opportunities in the optimization of the license's purchase.
Qlik Sense Enterprise (QSE)
The highest Elite Solution Provider status possible for a Qlik Partner:
Qlik Sense Professional
The user has access to the editing of streams and applications in Qlik Sense. It is intended for users, who need an access to all the functions and users, who will create, edit and publish sheets and applications and (fully) benefit from the available functions. Within the framework of the Qlik Sense Professional license, client receives an access to additional Qlik's tools:
Qlik GeoAnalytics Base – it provides a geographical analysis with the use of Qlik Sense
Qlik Web Connectors – access to the completed connectors designed for a specific application, easy access to services such as Facebook, Google Analytics
Qlik DataMarket Essentials – access, inter alia, to data from Eurostat, weather data, currency exchange rates
In addition, as long as the subscription for the Professional User is active – each user has an access to Qlik Continuous Classroom – Qlik's e-learning platform.
Analyzer User
The user with an access to the Analyzer cannot create, edit or publish sheets and applications (in contrast to Professional User). This type of user can:
examine applications,
create bookmarks and history,
print objects and history,
export data from the object to Excel or PDF,
use the Qlik Sense on mobile devices.
This type of license is used by all users of applications that have been created by users of the Professional.
Analyzer Capacity
In addition to the above-mentioned users, the access based on minutes package is also possible.
Analyzer Capacity – it offers an access to the Qlik Sense application based on consumption settled in minutes. The purchase is realized in packages (1000 minutes). Minutes are allocated and reset every month. Unused minutes expire. Consumption takes place in blocks (6 minutes per block).
We can assign an unlimited number of named users to the group of Analyzer Capacity's users. Permissions are the same as in the case of Analyzer User (conducting analyzes without the possibility of editing and creating applications and sheets) This type of settlement is optimum when you want to give an access to Qlik Sense for a large number of users, who will benefit from the prepared applications (occasionally). Access at the Analyzer level can also be provided for users, who are outside of our company (business partners, customers, etc.)
The purchase of one Qlik Sense Professional user entitles us to take advantage of all the opportunities offered by the tool. In contrast to similar solutions on the market, in Qlik – there is no need to purchase next types of users and access levels in order to benefit from the next functions.
By selecting BPX as a partner, you and your organization will have a guarantee that the type and number of licenses will be adopted in an optimum way (in terms of costs and quantity).