Advanced Analytics
Usually organisations undergo through subsequent phases of development in the Business Intelligent system:
Reporting
Presenting the performance values of individual indicators, simple trends and comparisons to the budget.
Individual data analysis
Using the visualisation capabilities of BI tools to analyse collected data.
Advanced analyses
Prediction, automation of applications and optimisation of processes based on collected data.
Advanced analysis in Qlik allow for the integration of statistical and Machine Learning solutions in Qlik applications.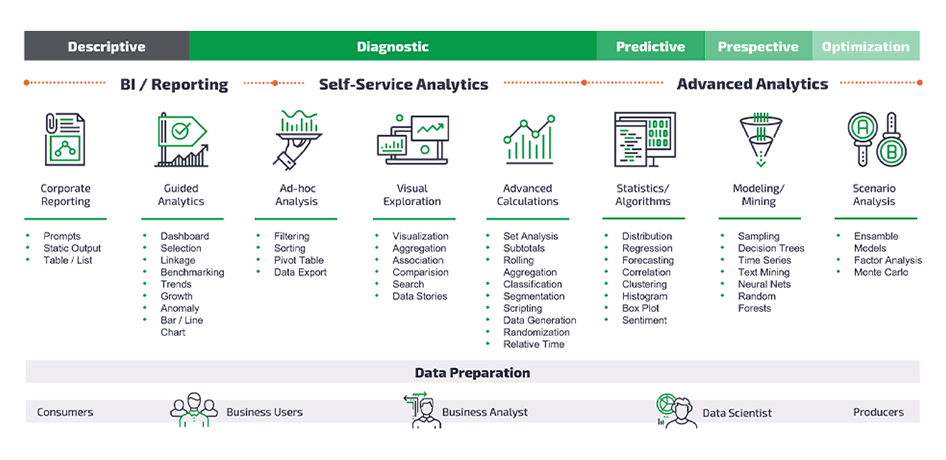 Qlik permits integration with advanced analytical engines and the use of their computing power in combination with in-memory technology. This helps us gain access to advanced statistical algorithms such as:
Correlation analysis
Forecasting
Regression
Decision trees
Text mining
Neural networks
Multiple factor analysis
Monte Carlo analysis
The Qlik engine can be integrated with external data processing engines such as Python, Spark, R. The technology of connecting with other engines has been described and made available by Qlik under an open-source license, which allows for the creation of dedicated connections also for other analytical engines.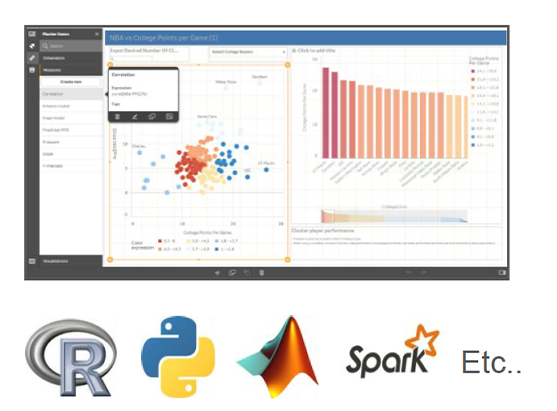 Data are sent to the analytical engine during the user's interaction with the Qlik interface. All R or Python functions are available from the level of creating Qlik expressions. Data are sent to the engine of the selected analytical solution. The processed data is then returned to the Qlik engine and displayed in the Qlik reporting interface. Data are recalculated with each user interaction, so the user can quickly change input criteria and analyse new results.